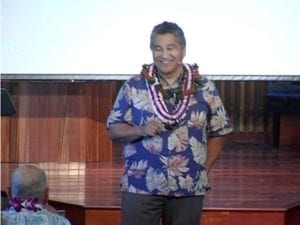 How can aloha help your business?
"Your presentation was a life-changing moment for me. It has really impacted me at work. I feel transformed!"
Traditionally, Hawaiians know that people thrive with aloha. Research in business and psychology confirms it, and also proves that when people thrive, their organizations flourish. Organizations with aloha attract and retain employees and customers.
But aloha is not a quick fix. Aloha is a way of life. To change the way of life of any business or institution is a significant undertaking.
Our Native Hawaiian speakers, trainers, practitioners and guides have grown up living aloha in their everyday lives. They bring their unique aloha spirit to every speech, workshop and experience. As they model and teach about aloha, the people in their groups understand, and learn how to apply the lessons of aloha to their jobs and lives.
To find out how our speaking, training and experiences can help your organization thrive with aloha, call 808-282-2743 or contact us.