Mind, Body, Heart and Spirit: Full Audience Engagement for Maximum Impact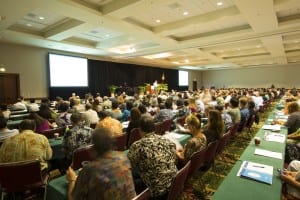 Executives, professionals, and subject matter experts make presentations to colleagues, clients, boards, commissions, professional associations and more. But are your presentations interesting, engaging, compelling and fun? Yes, even a due diligence report can become engaging if you use a simple four-step process to craft your content and slides.
Makana has been a professional speaker for more than 20 years. She is recognized by the National Speakers Association as one of the top 10% of speakers nationally for platform skills, has trained hundreds of professionals in presentation skills, and has taught Public Speaking at Hawai'i Pacific University.
She helps people improve their presentations through facilitation skills training, and provides complete instructional design services to make presentations engaging and compelling.
In this training you will learn:
The one question every audience wants you to answer.
How to craft your content to move your audience to action.
The best time to answer questions.
How to avoid Death by PowerPoint.
The most powerful way to start and end your presentation.
Makana gives a one-hour presentation on the basics, a 3 to 6 hour workshop (with or without videotape feedback), or one-on-one coaching over the course of several weeks or months. She has presented this program for the Hawai'i chapters of the Society for Human Resource Management and the Association for Talent Development, and for the Hawaiian Electric Company.
To chat with Makana to find out more, call her at 808-282-2743 or contact us.
Recognized as one of the top professional speakers in the country, Makana has trained and coached hundreds of executives, lawyers and other professionals who need to communicate dry information in a compelling way. A long-time member of the National Speakers Association (NSA), Makana is recognized by her peers as a Certified Speaking Professional. To receive this certification, she gave 501 speeches in a five year period to 50 client companies.
NSA annual meetings typically attract more than a thousand professional speakers, all of whom want to present to their peers. Makana has presented at NSA national meetings 26 times on topics such as how to create speeches to get results, and how to handle hostile audiences.
Makana hired, trained, developed and managed trainers in her own training company. She also conducted Train-the-Trainer classes for more than 200 HR staff in her client companies across the country. When she worked for the Native Hawaiian Hospitality Association, she found, trained, developed and managed Hawaiian cultural experts to teach Hawaiian traditions to visitors.
In addition to her article in American Society of Training & Development's Training & Development magazine on best practice harassment prevention training, she authored many articles about speaking for various professional speaking magazines including Professional Speaker and Sharing Ideas.
Read articles written by Makana on presentation skills.
To chat with Makana to find out more, call her at 808-282-2743 or contact us.